BIKROM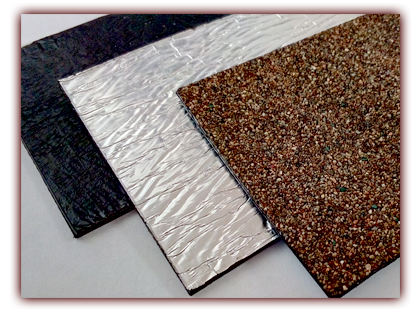 BIKROM is a qualitative product that allows producing inexpensive roofing. There is no need to use expensive equipment during working with this material, herewith it is reliable enough. Bikrom was designed for the construction and repair of roofs with a small slope, as well as for waterproofing buildings and constructions in cases where the level of reliability of the enclosing system doesn't have strict requirements.
This material is produced on the basis of fiberglass with a non-woven canvas (Bikrom TF, Bikrom TK or BIKROM TP) or a fiberglass with a fabric mesh (BIKROM TP) coated or with a polymer film (for waterproofing and lower layers of roofing carpet) or with a foil coating or gray coarse-grained sand (for the upper layers of the roofing carpet). Bitumen binder is applied on the basis of the material, containing modified bitumen and filler.
Bikrom is applied by reflowing its surface with the flame of burner in one layer during repair of the old roof coating, and in two layers during making a new roofing carpet, or during major overhaul. During reflowing process concentrated heating of the surface of the canvas is not admitted, as it can cause ignition. Only the surface is heated, reflowing of all waterproofing layer is not admitted.
Width of Bikrom material is 1000mm, length is 10000mm (thickness of the layer is 2 mm - 15000 mm).
It is used for laying roofs in industrial and civil constructions, repair of buildings' roofs of various functions, as well as for waterproofing bridge spans and such engineering structures as ventilation shafts, swimming pools and basements. Good for climatic conditions of Central Asia.
The name of this product "Bikrom" was invented in 1996 by the founders of the company and didn't exist before. It was patented. Unscrupulous manufacturers of soft roofing material use the name "Bikrom" for their products, which is illegal.
Only products manufactured by ALES POLIZOL SINTEZ LLC can be named as Bikrom.